Skip to Content
Preventive Dentistry in McAllen, TX
Dental Park Preventive Dentistry Services
Preventive dentistry is an excellent approach to helping prevent future dental problems and practice proper oral hygiene skills. Dental Park offers preventive family dentistry services in McAllen, TX, that emphasize home care and boost healthy lifestyle habits. We work alongside each patient to ensure optimal dental health between routine visits. Our dentistry team is here for your every dental need, from dental cleanings and dental fillings to cosmetic dentistry and emergency dental care. Contact our team today to learn more about our preventive dentistry services.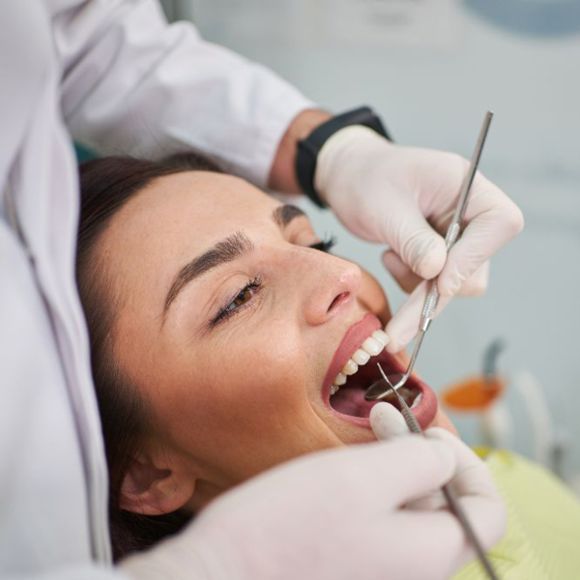 What Is Preventive Dentistry?
Preventive dentistry practices help maintain oral health by teaching patients about optimal dental care. We teach patients the best ways to brush and floss each day. We recommend using a soft-bristled or electric toothbrush at least twice a day to help boost oral health. We teach patients to place the brush along the gum line at a 45-degree angle to loosen and remove plaque. We teach patients to use an 18-inch strip of dental floss and insert the floss between each tooth. Preventive dentistry practices are the best ways to boost oral health and educate each patient about the importance of regular dental care.
Who Benefits from Preventive Dentistry?
Every patient benefits from preventive dentistry. Children can develop skills that help their teeth stay strong and healthy at an early age. We use dental sealants and topical fluoride treatments on children's teeth. Adults benefit from preventive dentistry because it helps maintain oral health and keep natural teeth healthy.
What Does Preventive Dentistry Do?
Preventive dentistry is the best way to help patients avoid dental issues. With proper dental care, we can work together to prevent or lessen:
Gum Disease
Cavities
Enamel Loss
Periodontitis
Tooth Loss
Preventive Dentistry Strategies
Preventive oral care strategies include:
Fluoride Treatments
Fluoride strengthens teeth and prevents tooth decay. Fluoride treatments help prevent tooth decay and strengthen teeth. We recommend using fluoride toothpaste and mouth rinses at home.
Oral Hygiene At Home
The most important techniques to prevent oral health issues are brushing and flossing twice a day at home. Brushing and flossing help remove dental plaque and dental tartar.
Regular Dental Visits
Routine dental visits every six months help find minor dental issues before they cause significant damage. We perform oral cancer screenings, check oral growth and development in children, and ensure your mouth is in optimal health.
X-rays
X-rays help us find visually undetectable dental problems.
Sealants
Dental sealants are placed on the chewing surface of the back teeth to prevent further tooth decay issues.
Avoid Smoking
Smoking and chewing tobacco negatively impact your oral health. It can cause tooth discoloration, dry mouth, plaque buildup, and oral cancer.
Patient Education
We provide patient education about the effects of positive dental care. Instilling positive oral hygiene habits in our patients leads to positive oral health.
What Are the Benefits of Preventive Dentistry?
Preventive dentistry practices offer many benefits. The most critical thing preventive dentistry does is help reduce the risk of gum disease, cavities, and other oral health issues. It also helps lessen the risk of health problems that are sometimes linked to poor oral health, including:
• Heart Disease      • Osteoporosis     • Diabetes     • Respiratory Disease     • Cancer
Contact Dental Park in McAllen, TX Today
Our compassionate dental professionals, led by Dr. Jo and Dr. Park, are proud to provide effective preventive dentistry services to our patients. We partner with you to ensure you have the best dental health possible. Our welcoming office offers a comfortable environment for patients of all ages. Contact us to schedule an appointment today!
Need to Book Your McAllen Dentist Appointment?