Skip to Content
Post-Treatment Dental Care in McAllen, TX
Dental Park offers Post-Treatment Dental Care Routines
Maintaining the proper oral care routine after your treatment is essential for your recovery. Dental Park in McAllen, TX, offers comprehensive cosmetic and restorative dental treatments for you and your entire family. We utilize the latest dental technology to ensure you leave with a smile that you love. After your procedure, your dentist will offer comprehensive care instruction and an expected recovery timeline. By following the advice of our dentists for your post-care treatment, you can ensure your recovery is completed on time. As a result, most patients recover without any complications. Contact our team today if you have any questions about your aftercare treatment.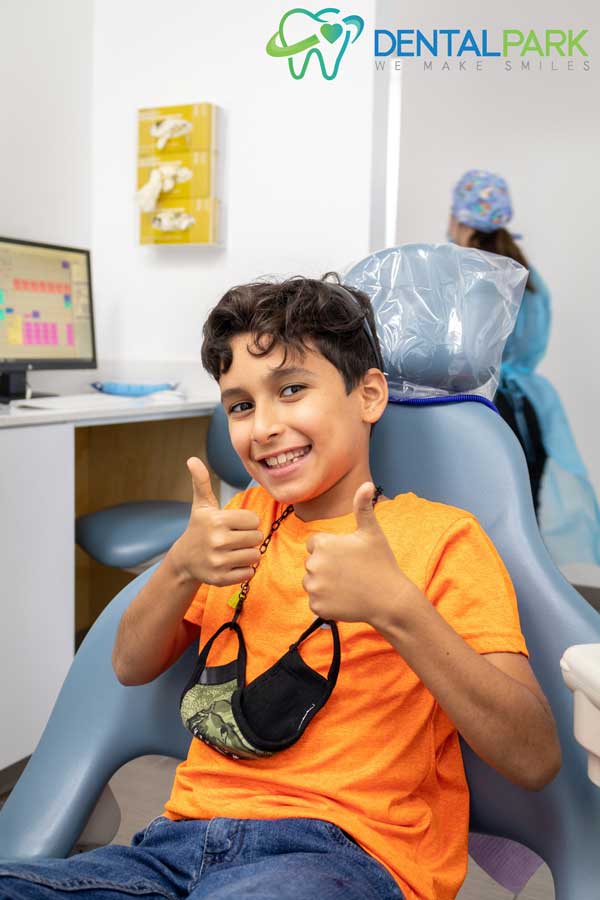 Post Care Instructions for Dental Treatments
Patients often experience tenderness, some light bleeding, and swelling after their procedure. This is all considered normal, and they will notice continual improvement until their recovery is complete. To prevent complications including infection and aggravating the procedure site, we often instruct patients to avoid smoking and drinking alcohol, excessive activities, and eating hard or chewy foods. Ignoring these aftercare treatments can lead to an infection and other complications. Below are some additional recommendations about your aftercare treatment:
After Care Treatment for Bridges and Implants – Patients who have had a bridge placed will most likely experience tenderness around the implant site. Some light bleeding may occur as well. Our dentists may recommend Ibuprofen to help reduce pain and swelling.
Post Dental Extraction Care – After surgery, you may experience swelling, pain, redness, and tenderness around the extraction site. Using a cold compress will help reduce swelling and alleviate pain. Gauze will be placed over the wound to help prevent bleeding. We recommend replacing the gauze as frequently as needed until the bleeding stops.
Post Dental Filling Care – If our dentist used anesthesia to reduce pain, we recommend avoiding eating until the anesthesia wears off. Patients may also experience sensitivity to hot and cold in the filling area, which may last for 48 hours or more. There may also be some soreness in the filling site.

Aftercare Treatment for Dentures – It's not uncommon for dentures to require readjusting after they have been placed. Reading aloud, singing, and talking will allow you to get more comfortable with your dentures. Your dentures will need to be removed each night for cleaning and to help give your gums a chance to recover.
Potential Complications of Your Dental Procedure
The dental professionals at Dental Park utilize clean and sterile tools and office spaces when performing your dental procedure to reduce the risk of infection and complications. To provide you with the best chance at a smooth recovery, ensure you follow all of your dentist's recommendations. If complications do occur during recovery, you should contact our office know right away so your symptoms don't worsen, and we can get you the help you need. Knowing the warning signs of complications after your dental procedure is important.
Swelling and Pain – After any dental procedure, you may experience pain and swelling. It's very common in most cases and should subside after about 72 hours. However, if pain and swelling persist after three days, we recommend contacting our office as this may be a sign that an infection has developed.
Alveolitis – Alveolitis, or more commonly knowns as dry socket, is when the original blood clot is lost, which exposes the bone beneath it. This can lead to severe pain in the extraction locations. It's more common in smokers and may persist for one to two weeks. Our doctors may be able to alleviate pain due to a dry socket.
Osteomyelitis – Osteomyelitis is a bacterial infection that occurs in the bone of your mouth. Some common symptoms of an infection include fever, chills, swelling, and tenderness at the injection site. Our dentists may prescribe antibiotics to combat the infection.
Bleeding – Bleeding is common in patients following a dental procedure such as an extraction. When blood is mixed with saliva, it may appear like there is more blood than what is present. Once the process is complete, our dentists will place gauze over the wound to help slow the bleeding. Continually replacing the gauze will help stop the bleeding. Those who take anticoagulants should speak to their dentists.
Why We're The Right Choice for Your Dental Procedure
At Dental Park, our friendly and compassionate team of dental professionals are here to ensure that your procedure is completed in a clean and comfortable setting. Our dentists are highly skilled and licensed to provide you with the best possible care in McAllen, TX. We have been serving families throughout the area for years, and we are confident we can assist you too. We understand that some patients may have anxiety when visiting the dentist. This is why we utilize anesthetics to help reduce pain and stress. Anesthetics allows you to get the treatment you need to maintain a healthy smile. Contact our team today to schedule your appointment.
Need to Book Your McAllen Dentist Appointment?